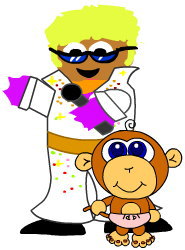 A few weeks ago we had a great video from Col showing how he tests his kids.
I wrote back to say how cool it was to see such confident kids, and this was his reply, I think you might find it useful!
Thanks,

I'm very proud of my kids. My main aim has been to get them to be confident.

This is one of the reasons I give my kids English names – at day school you may be shy little "Gaeo", but here you're Ella, one of the greatest singers and performers in the world!

I also use something I stole from one of your videos, which really works a treat.

Each student stands up in front of the class and introduces himself, when he says his name, all the other students say "Hello, …. How are you?", and cheer.

It makes all the difference, from a head down mumble to Shakespearean actor in a few seconds!

Thanks for everything,

Col
How can you implement these ideas in your class?
Press the "+1" button if you like this!
Comment Competition:
Every month I'll select a random comment to win a Genki English CD of your choice. Comment a lot and you have more chance of winning.