Thanks to Martin for the prompting Margit and I have been working on some more Phonics Stories for you.
This next one is for use after the current phonics stories and the "igh" lesson and it is still in beta test form i.e.  it should be OK but there might be some mistakes still so please let us know if you find any!
For example when writing a phonics story it has to:
Use only the phonemes/graphemes used so far.
Kids understand all the words (i.e. they are covered in the curriculum) unless…
All the words not in the curriculum we have to introduce with illustrations here.  (There are quite a few this time!)
Any "funky words" i.e. words you can't read with phonics either have to be introduced here or have been used in previous stories.
It's got to have something fun in the story.
As you can see it's quite a bit of work.
So if you're up to "igh" in your Genki Phonics and want to try it and help us check how it works then here you go!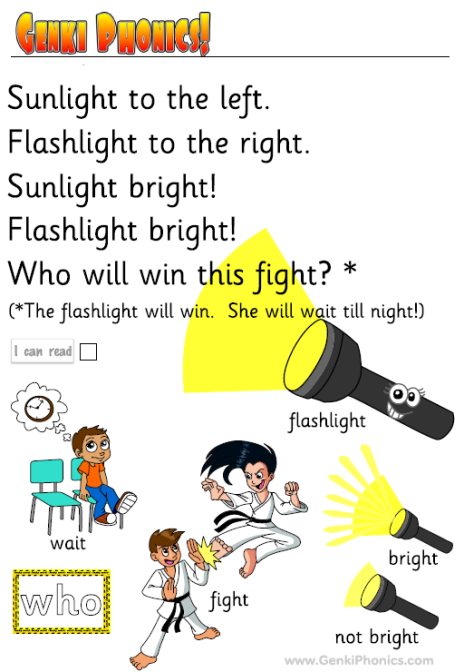 Ninja Tip:  When showing parents the power of the phonics programme, the "igh" page is always the one that impresses the most!
Would you like us to continue with the rest of the stories?  Do let us know in the comments!
P.S.  Obviously your kids have to be at least this far in the Genki Phonics curriculum in order to do this page!

Press the "+1" button if you like this!
Comment Competition:
Every month I'll select a random comment to win a Genki English CD of your choice. Comment a lot and you have more chance of winning.